NOSK - Nepal Open Source Klub is a group of like-minded people who work to raise awareness and adoption of FOSS( Free and Open Source Software) in Nepal. We being at the club aim to educate and train people of different domains of technology by organizing different events and sessions time and often.
NOSK was founded by Nitesh Rijal, a great admirer and promoter of FOSS, On 28th Feburary 2008, formerly as the NCIT Open Source Klub.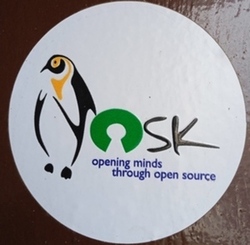 Our Objectives
Promote Open Source Culture
Help the people to adopt FOSS
Provide Workshop on various Open Source Tool and Technology
Open For All
NOSK is open to everyone who want to be a part of it. Anyone can contribute and educate people about technology and any technical stuff which supports FOSS through the NOSK. Being an Open Source Club, we strongly support and promote Free and Open Source. Anyone with interest can be a part of our open source software development which can be done through GitHub.
Promotion of Open Source and Free Softwares
Being an Open Source club, we want everyone to learn about Open Source, know its benefit and help them learn using Free and Open Souce softwares. To achieve this, we organize various talks and workshops frequently.
Free Software comes from free software movement started in 1983 by computer scientist Richard M Stallman, when he launched a project called GNU which stands for GNU is Not Unix, to provide a replacement for the UNIX operating system - a replacement that would respect the freedoms of those using it. More precisely, free software means users of a program have the four essential freedoms.

Open Source is a term that originally referred to open source software (OSS). Open source software is code that is designed to be publicly accessible—anyone can see, modify, and distribute the code as they see fit. Also it doesn't just mean access to source code. The distribution terms of open-source software must comply with the given ten criteria.

The main diffrence between free and open source is that free software is a social movement but the open source is a development pattern.